Bodenheimer-Mayer House offers quality antique furniture produced in the Ohio Valley Region prior to 1850. Many of our antiques have not been on the market for 30 years. You may see the ones pictured below in the gallery in Lancaster Ohio. Larger images are also available by clicking on the photo below. If you are looking for a high quality antique from the Ohio Valley Region, please let us know. We may have it in our warehouse inventory or know of a collector who may have the piece you seek for sale. If you collect antiques from a particular state in the Ohio Valley region, please click on the links below to see items in the gallery which are attributed to that state.
You may also go directly to a category of antiques by clicking one of these links: Blanket Chests, Chairs, Children's Chairs, Chests, Corner Cupboards, Cupboards, Desks, Dry Sinks, Game Tables, Mirrors, Secretary Desks, Sewing Stands, Sideboards, Stepback Cupboards, Stands, Tables (Drop Leaf and Banquet), Tall Case Clocks, Work Tables.
Please contact us for a detailed description and condition report for any of the antiques pictured.
Blanket Chests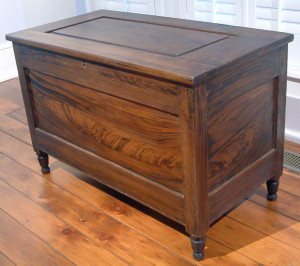 Painted Blanket Chest, signed on the back T. Van Sickle, Rushville O
Chairs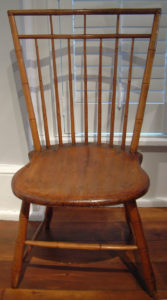 Bird Cage Windsor; Tiger maple and hickory; Bamboo turnings with a scooped out seat; 16″ seating height.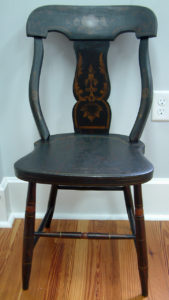 Zanesville Ohio Fancy Chair; Flower, leaf and line decoration on a black ground; Signed on the bottom with a stencil that possibly reads J. R. Allan's / Main & Third / Zanesville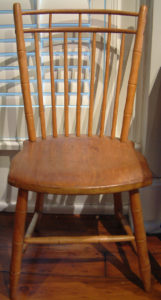 Bird Cage Windsor; Mixed woods; Bamboo turnings. 17″ seating height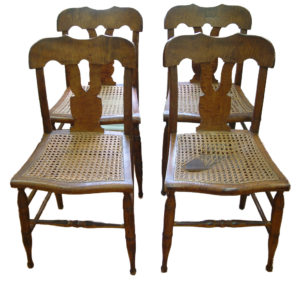 Tiger maple chairs; Boot jack splat and caned seats; Set of for; 17″ seating height. Chairs are structurally sound and exhibit appropriate wear on the seats and front stretchers . One seat needs re-caning. Another cane seat sags and one strand has a break. The other two chairs are in very good condition.
Children's Chairs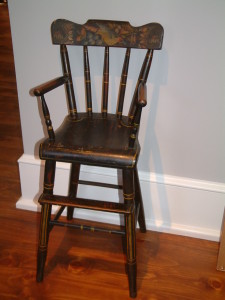 Child's High Chair; Original Stenciling and Paint Decoration
Chests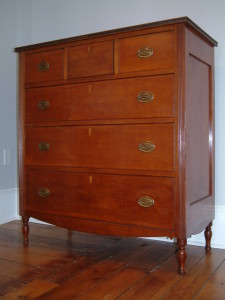 Fairfield County, Ohio Sheraton Chest; Attributed to Jacob Bope; c1825
2 over 3 Drawer, Walnut Hepplewhite Chest, Attributed to Fairfield County Ohio; inlaid kite shaped escutcheons; Original brasses; Original finish; c1810
Transitional Sheraton to Empire Four Drawer Cherry Chest; Fairfield County,Ohio; Carved Sunburst with Tiger Maple Center, Broken Arch Backsplash, Turned and Carved Applied Half Pilasters; c1830
Corner Cupboards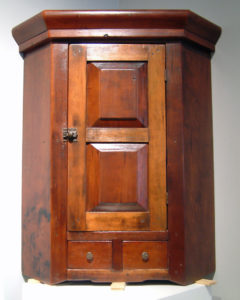 Hanging Corner Cupboard; Refinished cherry; Approximately 30″ tall and 25″ across at its widest point; Requires an 18″ corner. Door has two raised panels; Two dovetailed drawers; Shaped apron; Cut nails and wooden peg construction; Interior has a medial shelf.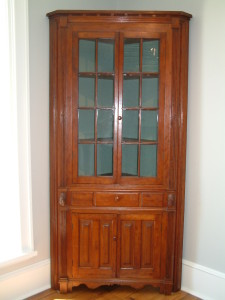 1 piece, 16 light (2 x 8) Cherry Corner Cupboard; Attributed to Butler County Ohio; Picture frame molding on returns; Scalloped apron and shelves; Block and line carving in frieze; Dovetailed drawer; Carves sunbursts flanking drawer; Triple raised panels in the lower doors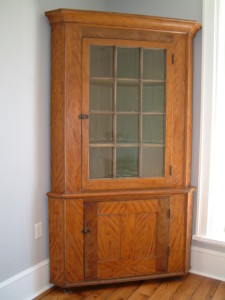 2 Piece, 12 light (1 x 12) Grain painted corner cupboard; attributed to West Central Pennsylvania; original wavy glass; Original feet; no in-painting
Cupboards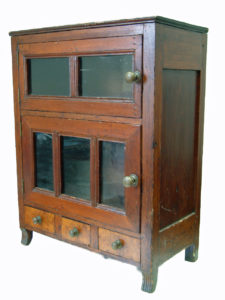 Table Top Cupboard, Possibly Cumberland Valley origin; Pine and poplar; 24″ tall x 18 1/4″ wide x 9 3/8″ deep. Mortise and pin constructed doors; mullions with slightly raised center; Original light green glass lights; Dovetailed drawers faced with a burled veneer; Raised on four feet that are extensions of the stiles; The front feet appear to be a primitive Spanish foot. The back feet are plain.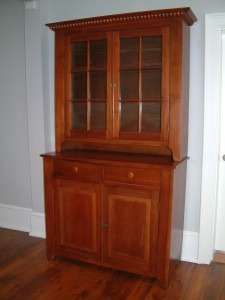 Cherry 2 piece, 12 light (2 x 6) Stepback Cupboard w/ Pie Shelf; Two dovetailed drawers; c1840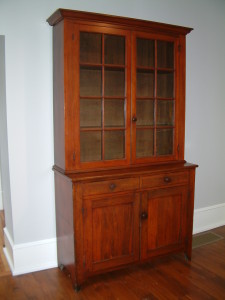 2 piece, 16 light (2 x 8) Cherry Stepback Cupboard; Attributed to Western Pennsylvania; Two dovetailed drawers; original wavy glass; Original pulls; c1830
Desks
Cherry Slant Front Desk; Poplar secondary wood; Dovetailed case with chamfered front edges that end in lamb's tongues; Scalloped apron; Dovetailed drawerswith scratch beading and inlaid maple, kite-shaped escutcheons; Original brasses; Fitted interior has 10 cubby holes and 10 drawers with mahogany veneered fronts; Two of the cubby holes and 2 drawers are behind the prospect door; The slant front is of bread board construction with a molded edge. It also has an inlaid maple kite-shaped escutcheon. The desk retains its original back board and dust board.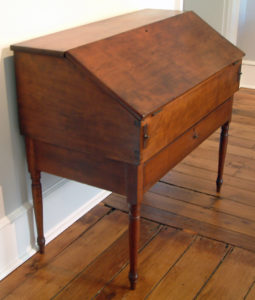 Washington County Ohio Clerks Desk; Descended through the Woodford/Davis family; Desk portion measures approximately 42″ wide by 22″ deep; The frame rises on finely turned legs and measures approximately 39 3/4″ wide by 21″ deep; 30″ high writing surface; Fitted interior with 8 cubby holes over three drawers; Two drawers retain their original handwritten labels for Receipts and Bonds; Below the fitted interior is a deep well suitable for ledger books;. Frame has a single dovetailed and scratch beaded drawer with a brass pull.
Dry Sinks
We have sold our current inventory of dry sinks. More will be coming soon. Please check back.
Game Tables
We have sold our current inventory of game tables. More will be coming soon. Please check back.
Back To Top of Inventory List
Mirrors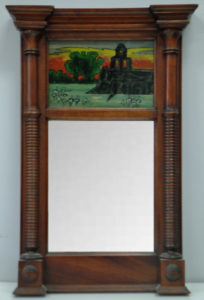 Small Federal Period Mirror, The mirror, including the walnut frame, measures 21 1/4″ tall by 12″ wide. Original reverse painted tablet in good condition. Early or original finish.
Secretary Desks
We have sold our current inventory of secretary desks. More will be coming soon. Please check back.
Sewing Stands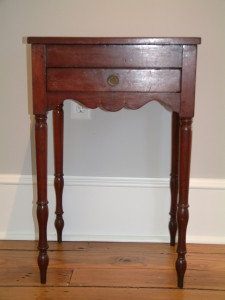 Cherry Sewing Stand, Scalloped apron; Dovetailed drawer; Lift top; c1800
Sideboards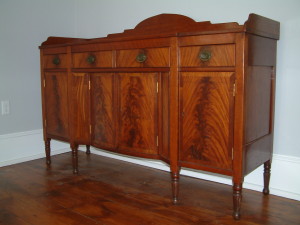 Cherry and Mahogany Sheraton Sideboard; Found in the Lexington Kentucky area; Shaped and dovetailed gallery; Period, but not original, brasses; Six veined legs with ball feet; Three drawers; Four doors; Interior shelves; c1815
Stands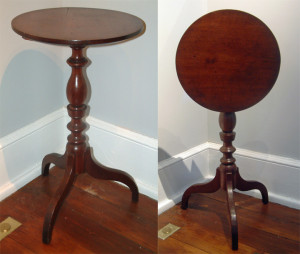 Cherry tilt-top candle stand; c1840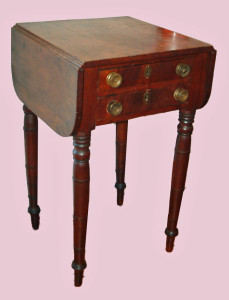 Two Drawer Drop Leaf Stand, Butterfly Leaf Supports, Mixed Woods; Original brasses; Early if not original finish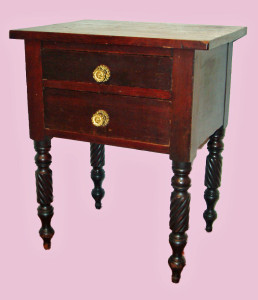 Two Drawer Walnut and Cherry Stand, Original Finish, Original pressed Brass Pulls, c1835
Three Drawer Cherry Stand, c1820
1 Drawer Cherry Stand; Maple Drawer; Swelled drawer front
Tables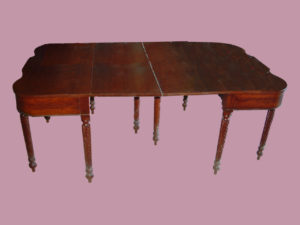 Sheraton Dining Table; 2 piece; each having a single drop leaf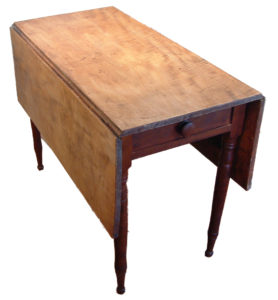 Tiger Maple and Cherry Drop Leaf Table, Tiger maple top; Cherry legs and frame; Dovetailed drawer; 40″ x 20″ closed; 47″ wide open
Tall Case Clocks

Lancaster Ohio Tall Case Clock, Cherry case; Mahogany and tiger maple veneer accents; Swelled waist door and lower section; original feet and finial; English works with moon dial movement; Original weights and Russian Cossack pendulum; Bonnet has diamond shaped side lights; 8′ 6″ tall; Attributed to L. Breitenbaugh or possibly Thomas Sturgeon; c1825
Work Tables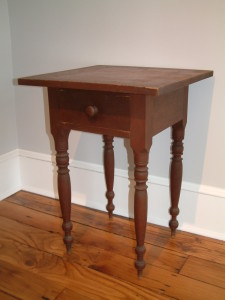 Fairfield County Ohio Work Table; Early red finish; Scrubbed top; Dovetailed drawer; Wide top; Great height; c1825