To browse our current inventory scroll down through the page. Larger images may be seen by clicking on the thumbnail. Or if you prefer, you may click on one of the following links to view glass made by a manufacturer or region: Boston & Sandwich Glass; Mantua Glass; Midwestern Glass; Mt. Washington/Pairpoint; Pittsburgh Glass; Zanesville Glass
To browse our current inventory by type of glass: click on one of the following links: Art Glass; Bottles, Flasks and Jars; Decanters; EAPG; Flips and Glasses; Lighting; Salts
Boston & Sandwich Glass
Acanthus Leaf Wale Oil Lamp, c1850. Starch blue font over clam broth base with a sand finish. Brass collar and double tube burner. The burner appears to be original. It retains one original wick and both caps. The caps are attached with what appears to be the original chain.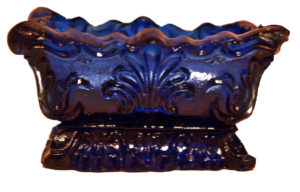 Cobalt Salt, Shell Pattern; c1830-40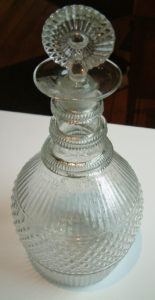 Decanter, c1820; 8 1/4″ tall plus stopper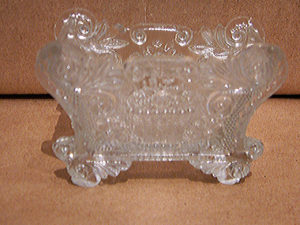 Basket of Flowers with Rosette Salt, c1830 – 40
Variation of Basket of Flowers and Beaded Scroll Salt, Gadrooning on the end; Six pointed star with beaded rays on base; c1835

Footed Celery, Block and thumbprint footed celery; Starch blue; Sand surface

Lafayet Boat Salt, c1825; Opaque blue starch color; Stern marked "B. & S. GLASS. Co" On inside of bottom and on underside, molded: "SANDWICH"
Oak Leaf Dish, 7 1/4″ diameter
Vinegar, 5 3/4″ tall plus the stopper; c1840;
Mantua Glass
Creamer, 1822 – 1829. Colorless, globular body with geometric GII-33 pattern, wide neck flaring outward to a sheared rim with a tooled, crimped pour spout – solid looped handle crimped and curled at lower attachment, blowpipe pontil scar, ht. 3 ½",
Midwestern Glass
Glass listed in this category was likely made by a Midwestern glass house. Unfortunately an attribution to a specific glass house is not possible.
Beehive Bottle, 22 ribs, Rough pontil; Rolled over lip;
Mt. Washington/Pairpoint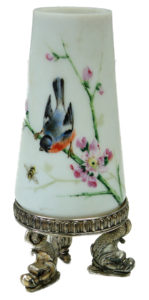 Vase, Satin opaque vase with bird, flower and bumble bee decoration. The vase rises on a silver-plated stand with three dolphin feet signed on the bottom Pairpoint. The vase is 4 3/8″ tall. On the stand, it measures 6 1/8″ tall.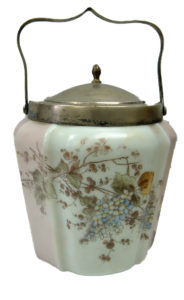 Wave Crest Biscuit Jar, Decorated with a floral pattern. It is approximately 6 1/4″ tall excluding the lid and swing handle.
Jack in Pulpit Vase, Enamel decorated opaque blue jack-in-pulpit vase. 8 1/4″ tall. "P" in a diamond signature
Pittsburgh Glass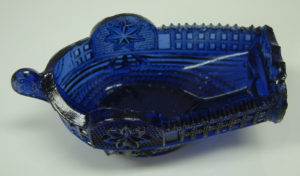 Pittsburgh Boat Salt, Cobalt Lacy Glass; Made by Stourbridge Flint Glass Works near Pittsburgh; c1825; Stern marked Pittsburgh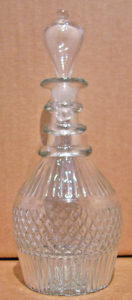 Decanter, Blown glass stopper; Attributed to Bakewell, Pears & Company, Pittsburgh; 1836 – 1882; 6 3/4″ tall plus stopper
Zanesville Glass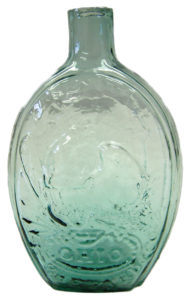 Sheperd's Masonic Flask, GIV-32; Aqua, Shepard & Company, Zanesville, Ohio c1825
10 Diamond Flask, Probably Zanesville Glass Works, Zanesville, OH, 1820 – 1830. Deep aquamarine, 10 diamond pattern, flattened chestnut form, sheared mouth – pontil scar, ht. 4 ½"; Includes an early letter documenting the bottles ownership in Perry County Ohio and use as the family relocated to Michigan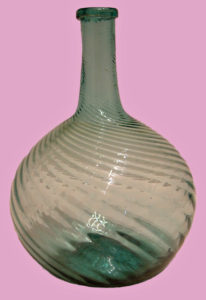 Aqua Globular Bottle, 24 Ribs with an open pontil and rolled lip; Approximately 7 1/2″ tall by 5 1/4″ in diameter;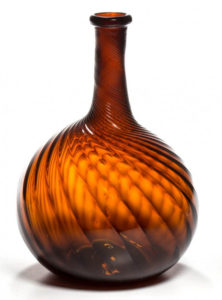 Deep Amber Globular Bottle, 24 ribs; Possibly the White Glass Works, Zanesville Ohio; Approximately 8 1/2″ tall x 6″ diameter; c1820
Eagle Flask, GII-126